All about
construction
progress
Founded in 1881 under the name of the Montreal Amateur Athletic Association, the MAA is a legendary sports club. Officially located on Peel Street since 1905, this elite address perpetuates its exceptional legacy today with a brand new vision, which pays special attention to the restoration of the building's original elements.
This section will give you updates about all construction work masterfully carried out by the most renowned builders and craftsmen in the industry.
For any additional questions,
please call the Info-construction line: 438 795-5538
You may also reach us by email.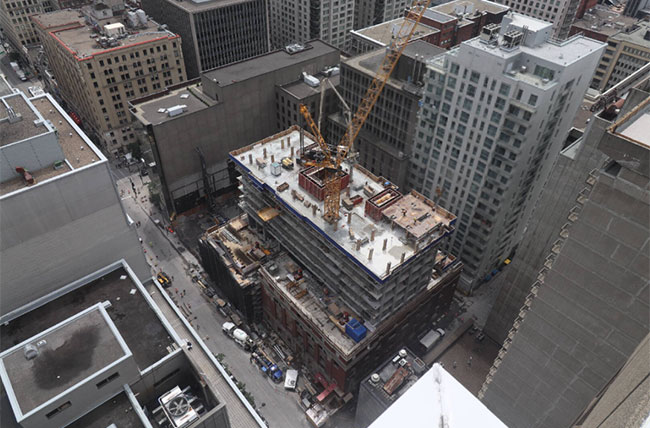 Work in progress
The restoration of the heritage facades is underway. This stage is crucial to the preservation of the original elements of the building. The finishing work on the Sports Club is also underway.
Our on-site team is currently working on laying out the concrete framework of the building. The structure continues to rise and is getting higher and higher as the columns and floors are put in place.
The walls for the units located on the lower levels will be installed shortly. Afterwards, our team will proceed with the finishing work on these units.
Delivery: Spring 2023 to late fall 2023
Preserving the
built heritage
One of the biggest challenges of the MAA Condominiums & Penthouses project is that of preserving the tremendous heritage value of the existing building's façade. The revitalization process involves taking into account numerous restrictions brought about by the limited space available to us, especially when working on the street-facing retaining walls.
Indeed, the project is located on one of the most important arteries of the city centre, both for pedestrians and vehicles, and has complex and restricted access.
"The architecture and construction teams had to be very versatile when designing and carrying out the project." Mathieu Côté, M. Ing., PA LEED C+CB, Structural Engineer, Research and Development at ELEMA.
Therefore, we have designed a 40-feet high steel structure that supports the façade and allows us to circulate and set up storage units and construction trailers.
"This creative and unique structure is a work of art in itself. It supports the façade while allowing the construction works to continue." Omar Waedh, PMP, MBA. Project Director at Edyfic Construction.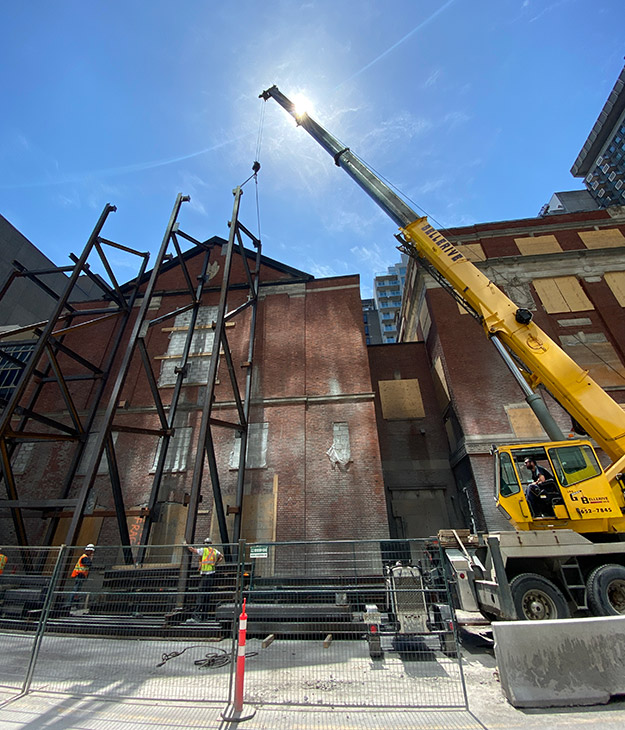 Long-term vision
Excavation (6 months): started in February 2020
Delivery: Spring 2023 to late fall 2023
Interested in MAA Condominiums & Penthouses?
The project is up for sale now! Fill out this form to receive further information.